What is Pay for Results Lead Generation?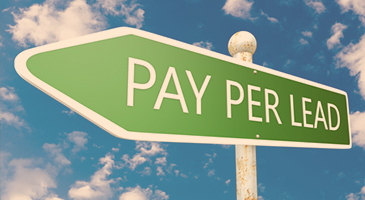 Would You Like Someone To Share Your Lead Generation Risk?
Question: Where do your best leads come from?
Answer: Past customers and personal referrals.
Question: And the next best leads?
Answer: From someone who is willing to take on risk in getting you lead results you can measure.
What is Pay Per Results (or pay for performance) lead Generation?
Pay per results lead generation is a step up from traditional pay per click or pay per insertions or impressions model of getting a qualified lead. In those cases, you:
Assume all of the responsibility for generating leads including creating the offer or incentive
Provide any fulfillment of that offer (such as a whitepaper, e-book or access to a tool such as a configuration or results calculation script)
Pay for the viewing of that offer, either through display or insertion of the ad in a website or newsletters or by paying for each "click" through to your website
Pay per lead (also known as pay per action lead generation, pay for performance lead generation, commision-based lead generation, etc.) means you are charged only for a qualified response, regardless of how many impressions or clicks their advertisement received. Lead generation via a pay per results model lowers the risk of online lead creation not being profitable, since what is being charged for the lead is agreed upon ahead of time.
How is our Version of Pay-for-Results Lead generation Different?
Performance-based lead generation has some of the same

challenges as performanced-based SEO.

However, the main concern most clients have is how to ensure that the lead itself is qualified. Stated another way, "Is this lead worth the resources it will take to nurture it to a completed sale?"

So the return on investment for a lead (or really a group of leads) needs to include both what you pay for the lead, and the time invested in working that lead by your sales personnel. This is typically the result of a mix of factors including:
How well the source of the lead (i.e. a particular website or email list) aligns with what is being sold
How expansive or restrictive the inducement or offer is (the harder you make it for a prospect to apply or respond to an offer, the more qualified the lead is)
The strength the inducement or offer (the more attractive the offer, the higher the response rate and the lower the cost to generate the lead)
Product/service demand
Product/service competition
In order to provide a mutually agreeable level of shared risk, we employ transparency to balance the above factors including:
Identifying the website or email media source and providing both visitor profiles (via analytics) or method of composition and pattern of use for the email list
Providing performance data in terms of the level of exposure, the click through or open rates for each offer
Split testing (AB testing, multivariate testing) of each offer to continually improve results
If provided, lead nurturing results from your customer relationship management programs (CRM) to grade leads by offer, media source, sales region and sales personelle
Charging different fees for the lead based on the above objective measures of performance, essentially "grading" the lead quality and charging accordingly
So rather than being simply a media source, we are truly a full-fledged partner. Since we are generating leads solely on a pay-for-performance model, it does neither of us any good to continue with any approach or progam that is not objectively measuring up.
how we Define results for Lead Generation:
A prospective customer engaging in a conversion action, typically filling out a form to request direct contact or some materials, information or to register for use of a tool or other aid
Only from the efforts we engaged in to generate that interest, typically traffic from on line sources that were mutually agreed upon prior to the program
For the mutually agreed upon period of time from that effort including media source, offer and measurement metrics