You Can Convert Web Visitors To Leads - Even When They Don't Act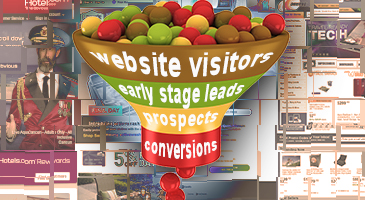 Early Stage Leads Can Double Your Conversion Rate. And you can use your existing resources to do it at virtually no extra cost.
We can often vastly increase the number of responses you get from your site simply by adding a live chat feature and identifying a portion of those who come to the site by those who use their company name as an incoming IP address.
So What's An Early Stage Lead?
Wouldn't it be nice to capture your website visitors in real time? At a time when they are highly motivated to interact with you and learn more about what you have to offer, but are not yet committed to buying. A high portion of these visitors leave the website because they were not able to immediately find what they need – even though you may actually be able to help them. Often a bit of support, either in real time or soon after the visit can turn these suspects into qualified prospects. Early stage leads do that, and they typically take one of two forms.
Using Live Web Chat Properly
Live chat solves the problem of on-line shoppers being unable to get their questions answered in real time, as they are doing their shopping. Instead of watching your website visitors leave (and later try to determine why from their click trails), we suggest using live chat services to engage these visitors while they are browsing.
While live chat does require staffing at some level, the value of assigning rotating support duties within the organization generally outweighs the cost. The key is using the proper types of chat prompts that go beyond the "may I help you" analog of a retail clerk. Instead we help our clients tests meaningful, context-sensitive questions, statements and offers that encourage visitors to help themselves by exposing their questions, needs and concerns.
The ultimate goal is to capture both contact information and the permission to speak further with them via telephone, hopefully during the same chat session.
Named Visitor Identification to the Rescue
You may not be aware of it, but many mid-to-large size organizations can be identified as visitors to your website because they have "named IP addresses" that expose someone from that company and the pages and other actions they take while on your website. Admittedly, there are probably 1 to 5% of these visitors that can be identified, but when you consider that conversion rates are often vastly lower than that, the ability to identify the company and city often allow an outbound call to be made to the same group is enticing. Less qualified than a phone call or form lead, but certainly better than a cold call, early stage leads provide sellers a means of pulling more lead generating efficiency from their websites. Those selling organizations that link this data through their customer relationship management software, can often see if the visitor has made multiple visits, a sign of deeper qualification.
How Early Stage Lead Gathering Works
The Perfect Live Chat System
We can help you implement a live chat service that offers many useful features including, but not limited to:
Ways to handle multiple chats in an easy-to-use interface.
Tagging and archiving chats to organize valuable data for analysis.
Personalized and automated greetings and messages to begin conversations.
Feedback options that reveal how useful each chat was.
Data analysis and reports of relevant chat information.
There are ways to utilize a live chat system even if you don't have the time or staff to run the program yourself. Our sales support team can help you develop and implement an effective live chat service that engages with your website leads and improves your conversion rates.
Early Stage Lead Identification
Your website visitors do not need to offer identification information in order for you to capture important data regarding their interest and lead activity. We can schedule email alerts to let you know when a lead is browsing your pages. We can alert you to:
The company or organization is from.
The city, state and country in which they are located.
Who is visiting your website.
How the visitor arrived at your website.
The particular products or services the visitor appears to be interested in.
Additional background and contact information on the visitor.
Compiled data based on visitor website activity over a specified period of time (recurring visits, etc.)
Contacting early leads, especially in real-time, can have a significant impact on conversion rates by offering you an early entry into the sales arena and an opportunity to communicate with motivated visitors. This program assists you in capturing data from the "invisible" visitors and better positioning yourself to gain their business.